We hosted our 4th Friendsgiving. This year the others seemed busy so the meal was made here, and folks brought cheeses, crackers, and wine (3 types of cheese and Milton's yummy crackers), freshly made olive bread with an assortment of oil and vinegar to dig it in, and delicious pumpkin chip cookies. Also special beers were shared.
Vegetable Tray from Store
Tri-Tip
Spicy Kale
Roasted Beets and Sweet Potato and Yams
Baked Beans
Dessert: Marie Calendar Pies (Double Cream Lemon and Dutch Apple)
Afterwards we played a board game Secret Hitler.
B A
L I
A
J E
1. Tri-Tip - purchased at Costco it came pre-spiced. Just put it on a grate on a tray and baked. Served with horseradish sauce. Delicious. We bought two packages of meat and didn't even finish the first one so we way over bought this!
2. Spicy Kale -
http://allrecipes.com/recipe/169777/chili-roasted-kale/
Delicious - had to be timed so it was the last thing out of the oven though...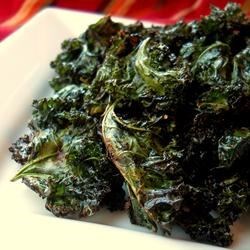 "This recipe was adapted from one of my favorite methods of preparing broccoli and cauliflower - roasting at high heat with the bold flavor of chili powder. The result with kale is a little outrageous - fiery flavor with a unique crispy texture!"
Ingredients
4 cups kale, washed and stems removed
1 tablespoon extra-virgin olive oil
1 tablespoon chili powder
1/2 teaspoon kosher salt
Directions
Preheat an oven to 400 degrees F (200 degrees C).
Place the kale into a large mixing bowl, and drizzle with the olive oil. Toss until evenly coated, then sprinkle with the chili powder and kosher salt, and toss again. Spread the seasoned kale onto a baking sheet.
Roast in the preheated oven for 5 minutes, then stir the kale, and continue roasting until the edges become brown and a little crispy, 5 to 8 minutes. Serve immediately.
ALL RIGHTS RESERVED © 2017 Allrecipes.com
Printed From Allrecipes.com 11/14/2017
3. Roasted Beets and Sweets -
http://allrecipes.com/recipe/77215/roasted-beets-n-sweets/
Turned out okay. Wasn't outstanding though.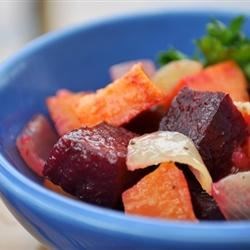 "This is a great autumn or winter side dish, especially for those who like things sweet and salty. The colors are beautiful and make a nice autumn presentation."
Ingredients
6 medium beets, peeled and cut into chunks
2 1/2 tablespoons olive oil, divided
1 teaspoon garlic powder
1 teaspoon kosher salt
1 teaspoon ground black pepper
1 teaspoon sugar
3 medium sweet potatoes, cut into chunks
1 large sweet onion, chopped
Directions
Preheat oven to 400 degrees F (200 degrees C).
In a bowl, toss the beets with 1/2 tablespoon olive oil to coat. Spread in a single layer on a baking sheet.
Mix the remaining 2 tablespoons olive oil, garlic powder, salt, pepper, and sugar in a large resealable plastic bag. Place the sweet potatoes and onion in the bag. Seal bag, and shake to coat vegetables with the oil mixture.
Bake beets 15 minutes in the preheated oven. Mix sweet potato mixture with the beets on the baking sheet. Continue baking 45 minutes, stirring after 20 minutes, until all vegetables are tender.
ALL RIGHTS RESERVED © 2017 Allrecipes.com
Printed From Allrecipes.com 11/14/2017
4. Baked Beans - made by Alex
I need get the recipe from him. He made the dish the same day as the event and it came out great. Had good texture, flavor. Couldn't ask for a better side dish!
Next year need to remember to have containers on hand to easier share leftovers!